We all know it- strategy is starting point for all actions within the business. It is the way to ensure that goals are achieved and, furthermore, that business planning can continue in line with strategy. It is essential to specify the planning and to adjust necessary resource allocation and budget plans. Market research and benchmarks must also be included in this context. Additionally, it must be ensured that the need for resources is not only understandable, but that the service to be provided also delivers added value to the company. This should also provide a realistic picture of the necessary costs and investments. 
 The term "resources" covers many different areas. Everything from the implementation of hardware or software solutions to the purchase of services from suppliers to the development and hiring of internal resources must be considered. It is crucial to take previous project experience in the market into account. This makes it easier to evaluate assessments and classify requirements accordingly. In the graphic below, we have summarized which decision options are available for dealing with a resource requirement.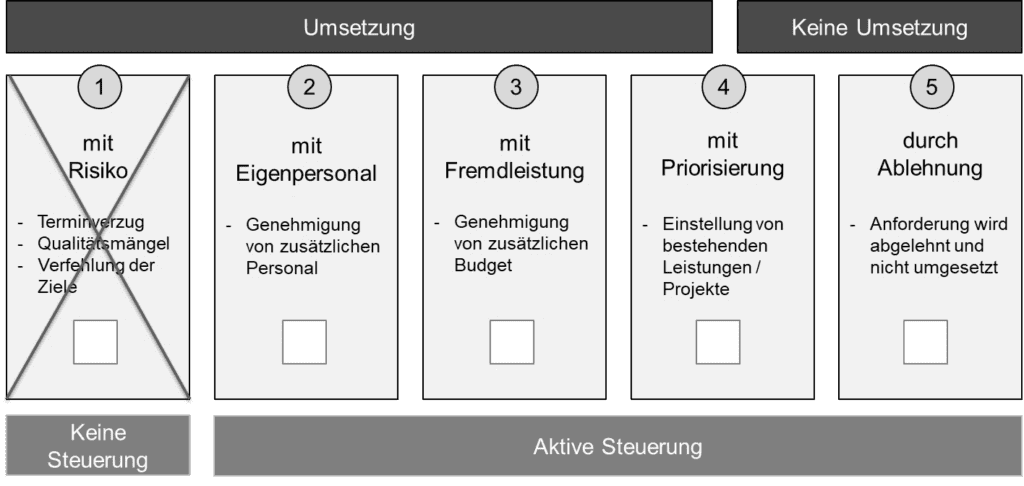 As the graphic shows, depending on the need (demand) according to (purely) economic and strategic criteria, the right option can be found and recommended. Here is a brief summary of the meaning of each option for you: 
1. Implementation with risk:
This option is additional demand without any free resources and based purely on efficiency gains. This therefore represents a high risk, as it can quickly lead to delays, quality deficiencies and missed targets. Because of that, we at CEYOND advise you to strictly avoid this option! 
2. Implementation with own staff: 
This option requires the approval of additional staff positions. The advantage here is that all activities can be regulated internally. 
3. Implementation with external staff: 
This option requires the approval of additional budget. Depending on the type of external service involved, the cost required for this can vary. Therefore, the decision to use this option must be carefully thought through. 
4. Implementation through prioritization: 
Prioritization involves ranking existing services or projects within the organization. This can lead to individual services or projects being put on the back burner or even discontinued. 
5. No implementation through rejection: 
This is where the decision for a non-implementation takes place.  
 When selecting an option, it is important to ensure that the option is developed in a strict and pure manner. That way you can withstand a high level of argumentation and pass on the justification or recommendation of higher levels hierarchy.