Which project do you remember in particular? 
 Günther: Basically, all projects have their own charm and fascination- but I really do remember one project for a procurement optimization at an industrial company. The focus here was on optimizing the volume of expenditure apart from raw materials purchasing, which presented a very special challenge. 
What was the initial situation with the customer? 
 Günther: The company, which can certainly be described as a global player with sales of around 3 Billion Euros and more than 10,000 employees, is represented in almost 200 countries worldwide with factories and sales locations. The largest competitors are located in the American and Asian regions. 
 The greatest challenge was the globally positioned purchasing department at several locations with limited use of synergies and, in many cases, a regional view of suppliers- differentiated according to various divisions. This can of course create advantages in local market cultivation, but the gasps regarding central control were too big in this case. 
What was the specific objective & requirement for you as a consultant? 
 Günther: The specific objective was to gain an overview of the entire expenditure volume and to identify levers for improving the situation. 
What did the solution & implementation look like? 
 Günther: Together we discussed different approaches to the solution or optimization and finally focused on several fields of action. For example, we were able to realize bundling effects by reducing suppliers in selected goods and service groups. In this way, a better purchase price was achieved via a higher volume for individual suppliers. In addition, the procurement opportunities for departments outside purchasing responsibility were minimized, so that so-called maverick buying* could be eliminated. 
 Improved purchasing results were achieved, among other things, by taking negotiations and overall purchasing management to Executive Board level, so that the Executive Board also negotiated with supplier management. As a result of these measures, significantly better outcomes were quickly achieved, unlike in a model in which departments purchased services from different subsidiaries. In addition, the field of vision was enlarged with regard to sources of supply and the entire world market was analyzed for potential suppliers. The resulting larger selection significantly increased the negotiating position in relation to suppliers. 
Description of the implementation procedure 
 Günther: Initially, we screened and condensed all existing data on the entire procurement volume to determine the status quo and then to obtain a better overall picture by gathering further relevant information.  
 After drawing and analyzing a detailed overall picture, the levers were defined and the derivatives for the savings were discussed and determined with the management team. The procurement strategies developed for selected "goods and service groups" were then implemented and monitored at defined intervals. 
 Finally, the success reports were prepared and handed over to the management. 
What successes were recorded? What was achieved? 
 Günther: During the projected period of two years, potential savings of 20 Million Euros were realized from a total expenditure volume of 250 Million Euros. This corresponds to a saving of 8 percent along the duration. 
We would like to thank Günther for this exciting insight. If you would like to meet our turnaround expert, or another consultant from our pool of experts, just contact us and we will be happy to arrange an appointment.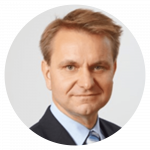 Günther, Turnaround expert at CEYOND  
Günther has been working as a consultant for top management and executives in companies of various industries for more than 25 years since he graduated from an international university. 
His projects range from company-wide reorganization programs and post-merger integrations to cost and expense reduction as well as revenue enhancement projects in the consumer goods, industrial and service sectors.