Why is knowledge management so important?
There is a saying that fits well with the subject matter: "If we knew what we know …" – yes, what would happen then? Then new employees could find their way into their tasks more quickly, task packages could be reorganized more easily, the in- and outsourcing of tasks could be carried out without any problems, the handover when employees leave could be carried out more easily, and the existing information could be refined into usable data, and much more. 
Countless examples and interfaces for the use of learning professionalism can be found. But most of the time, the knowledge is unorganized in the heads of individuals and is not available because they themselves are not even aware of it. In IT, for example, people often don't dare approach knowledge carriers because they don't want to disturb the person in question or expose themselves as ignorant. Knowledge management should therefore be an essential component in every company in order to break down such barriers. 
What do you think makes for successful knowledge management?
In a perfect world, there is not only a knowledge pool in every department, but these pools are also deeply interconnected with and among each other. Thus, information is no longer single-layered, but consists of multiple layers or layers as in the OSI model in IT, which makes it all the more valuable. 
All of this is only successful if it is also used, if it benefits the individual. If employees do not accept the resources that are available to them, then even the best-intentioned knowledge management is of no use. And that is a management task.
What are the five most important points that companies need to consider in order to secure knowledge and what are the challenges?
#1 Curiosity is a leadership task
People without curiosity are dead, they just don't know it yet. In the same way, organizations in which curiosity does not live are dead. Organizations are decisively shaped by their leaders and live from their curiosity. It is important to try out new things and to learn from the experiences made. Curiosity lives from asking questions and "those who don't ask remain stupid."
#2 No project without knowledge transfer
Projects serve to create value. Value creation includes the "return on investment (ROI)". That is nice, but not enough. Often the second leg is missing: "Return on Intelligence", i.e. ROI2. Every project has the task to make self-learned things available and thus scalable.
#3 No knowledge transfer without method
In learning, the how is decisive for the success of the learning process. Methods serve to filter out knowledge from everyday life, structure it and make it usable for learning. Suitable methods determine success.
#4 No method without embedding
Each method must fit the question and be embedded in the surrounding culture of the respective organization or department. The chosen methods must fit the content and the learners.
#5 No embedding without strategic goals
Just as software is subject to constant updates, business models are also subject to constant change, caused by customer or competitive behavior as well as product and service enhancements or improvements. Strategic goals should therefore include enabling the organization to respond appropriately and quickly to such changes.  
What role does knowledge management play in onboarding and offboarding employees?
Knowledge must not be forgotten or even lost due to fluctuation or growth. In onboarding, the challenge is to integrate the new employees into the daily work routine as quickly as possible and to bring them up to speed with the latest knowledge. On the other hand, in offboarding the main goal is to keep acquired information within the company and not to lose it with the departing employee.  
How can knowledge be expanded in such a way that the core processes within an organizational unit can be permanently adapted, further developed and improved? Do you have any practical examples from your career as a management consultant?
Yes, of course! I could think of several right away:  
One exciting project I was allowed to work on was the development of a knowledge map. The German IT organization of a leading European financial services provider wanted to know which tasks are performed by its more than 70 employees, how they assess these tasks, where there is potential for development, who the knowledge carriers are, and whether the tasks are actually performed by the right role holders. 
To illustrate this, we worked with the customer to develop a knowledge map that makes it possible to first describe each task, then place it in a field with four complementary quadrants, and finally assign and categorize it to eight typical IT task clusters in another field. We document the resulting data in a database and the evaluation of the results is visualized. In further workshops, the visualizations are discussed and evaluated with the customer and development measures are agreed upon.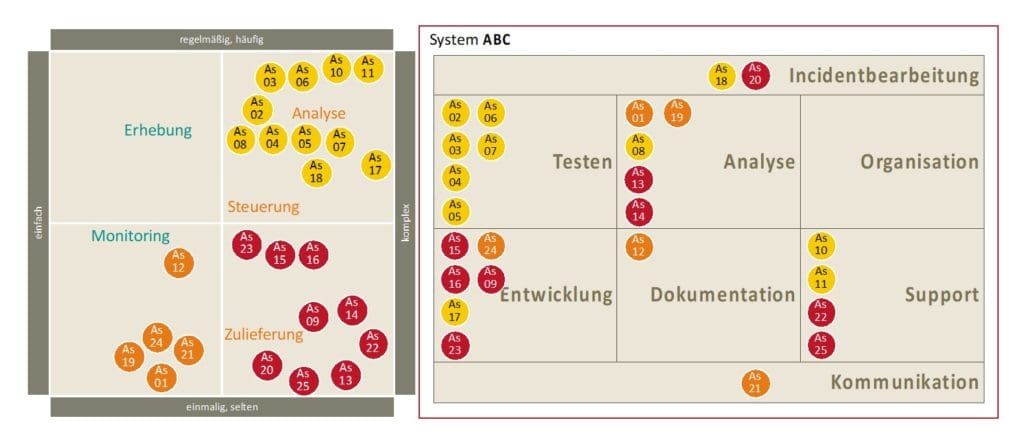 Another project example is the challenge of a large IT service provider in the public sector to create a pattern formation for efficient learning. As part of an extensive transition and transformation process, the operation of a large IT network is being taken over. The losing organization has built and operated the network from the beginning. In the acquiring organization, suitable personnel must now be recruited and empowered to take over and further develop the operation. To this end, knowledge transfer is to be organized and carried out.  
Incident management receives several hundred incident reports every day, for which there are currently neither classifications nor work instructions. However, the operation of the infrastructure must run safely and undisturbed at all times. Based on the DECIDE model in the Federal Aviation Administration's Risk Management Handbook, we are creating a manual for the new personnel taking over operations. In the manual, incident reports are summarized into comprehensible incident patterns and documented in a standardized manner. Using a decision tree, the new employees can check all possibilities step by step and thus find and eliminate the cause of the malfunction.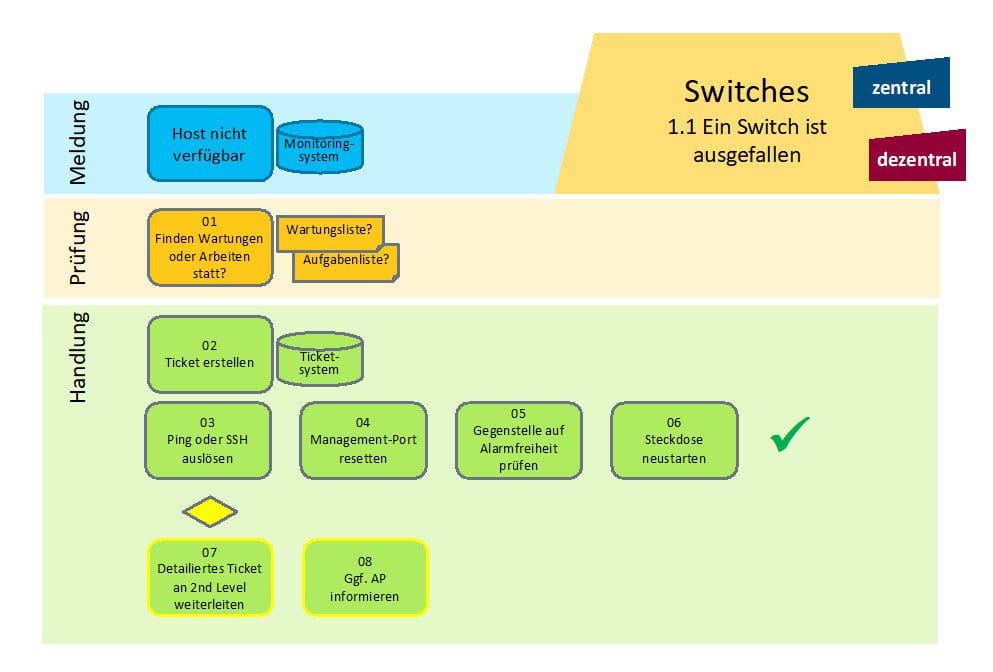 To categorize the incident reports, we categorize and cluster the component families in joint workshops. For the clusters, we describe the necessary decision steps at the meta level. The descriptions are standardized into the form of the work instruction. We add any descriptions for recurring detailed steps as one-pagers. We then use these job aids to carry out the necessary training of the new employees.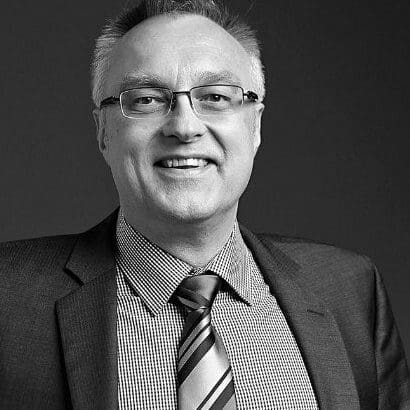 Martin is an expert for knowledge management in the CEYOND consulting team. He has been a management consultant, trainer and teacher since 2005. His focus is on business development, digital marketing, innovation, entrepreneurship, change management and startups.

Do you have further questions or would you like to meet Martin personally? Then please leave us a short message and Martin will contact you shortly.